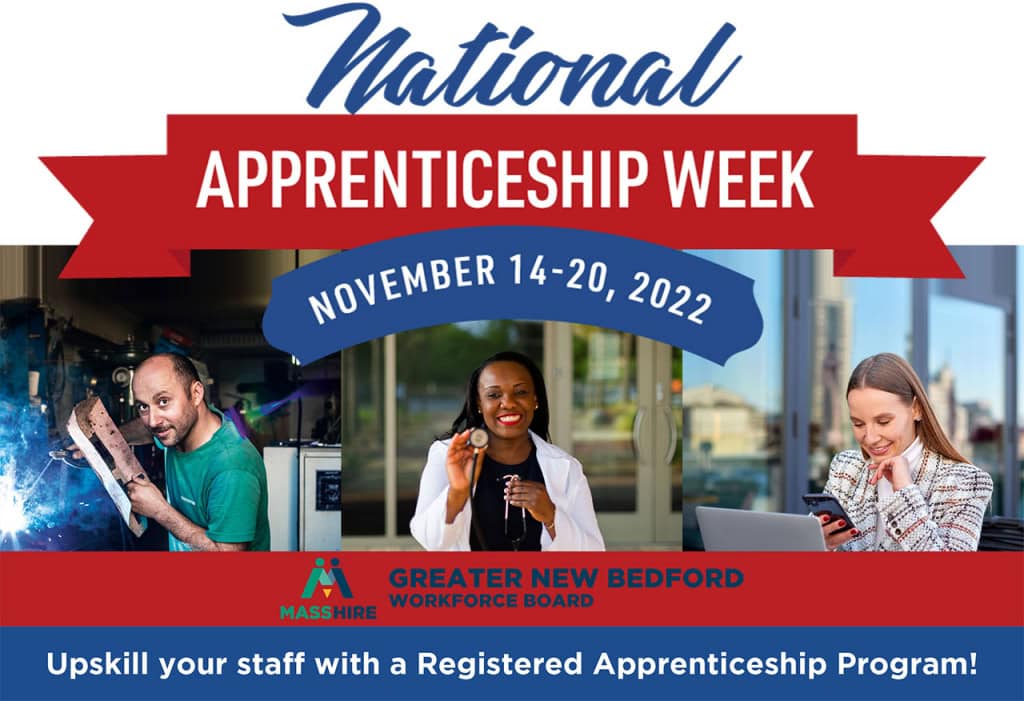 85 years ago the National Apprenticeship Act, also known as the Fitzgerald Act, was signed into law in 1937.
This week, MassHire Greater New Bedford Workforce Board is celebrating the 8th Annual National Apprenticeship Week. This is a nationwide celebration where we are showcasing the value of Registered Apprenticeship for rebuilding our economy, addressing the challenges that jobseekers encounter in finding a good-paying job and advancing gender and racial equity in the workforce.
Registered Apprenticeship is a proven and industry driven training model used to help jobseekers find good-paying jobs in the United States.  Traditionally, apprenticeships were associated with construction and other skilled trades. Today, apprenticeships have expanded to over 1000 occupations in diverse industries. These industries include Advanced Manufacturing, Healthcare, the Maritime Industry and Banking/Finance.
Since 2019 in Massachusetts alone, there are over 1660 Registered Apprenticeship Sponsors and over 12,177 apprentices. Businesses realize a 94 percent retention rate with workers who have completed a Registered Apprenticeship Program. Workers who have completed their apprenticeship earn an average of $70,000 per year.
The benefits to an organization that uses an apprenticeship program are that they gain highly skilled employees that are trained to the specifications of their business. Employers also experience lower turnover and higher productivity. Employers may be eligible for a State tax credit for certain occupations.
The benefits to the jobseeker are that they are working and earning a paycheck from the day they start employment. Workers also receive an industry recognized credential at the completion of their apprenticeships. The apprenticeship combines on-the-job training at the business with Related Technical Instruction (RTI) where they will receive schooling from an online or onsite educational program. Certain occupations may be eligible for reimbursement for schooling if funding is available.
For more information, please contact Debbie at debbieh@mhgnb.com or Matt at matt@mhgnb.com.